Migration centres, relations with Sudan, Paliessie cruises, beaver sausages – Belarus state press digest
The EU provides €7m to finance the construction of migrant facilities in Belarus to combat irregular migration. Aliaksandr Lukashenka visits Sudan with a delegation of Belarusian officials to discuss bilateral economic potential.
Belarus launches a 550-km-long cruise route in the Paliessie region. In 2016, Minsk breaks its record for housing sales. Belarusian food industries plan to produce sausages and canned meat from beavers.
This and more in the new edition of the Belarus state press digest.
Politics and foreign policy
The EU provides €7m to finance the construction of migrant facilities in Belarus. The project aims to combat irregular migration to the EU via Belarus, informs Belarus Segodnia. It will finance the modernisation of migrant centres, production of informational materials, training for specialists, and other related expenses.
The centres will only handle migrants detained on the territory of Belarus, as well as those who entered the EU through Belarus under the readmission agreement. The agreement does not impose obligations on Belarus to take in refugees from Europe. The project will allow Belarus and the EU to move forward in visa facilitation procedures.
Lukashenka: Sudan has become one of Belarus's most important partners on the African continent. On 16-18 January Aliaksandr Lukashenka visited Sudan with a delegation of Belarusian officials, reports Zviazda. The Belarusian leader held talks with the President of Sudan Omar Hassan Ahmed al-Bashir and addressed the Sudanese parliament about Belarus's place in the modern world, its foreign policy, and perspectives for the countries' bilateral relations.
Business circles from the two countries discussed partnership prospects at a Belarusian-Sudanese business forum. The Belarusian delegation included more than 30 representatives of large and medium-size industries, including MTZ, MAZ, BelAZ, Amkador, Homsielmaš, Belšyna, Dziaržynski, and others. Belarus and Sudan also discussed the possibility of Belarusian companies participating in exploration and development of Sudanese oil and gas fields. The total economic impact of the contracts came to more than $40 million, and Minsk expects it to multiply within a year.
Tourism
Tourism companies need to develop their services more actively after introduction of the visa-free regime. Belarus Segodnya criticises the Belarusian hospitality industry for its inability to take advantage of new opportunities. When asked about the potential impact of the visa-free regime on their business, a number of large tourism companies responded that they have no idea how to take advantage of the situation.
For years, the tourism industry has raised concerns that visas are an obstacle to inbound tourism in Belarus. But now that the state has liberalised its visa policy, companies continue to complain about various issues: tourists should be able to enter the country not only via the airport, they should have the right to stay more than 5 days, and so on. The newspaper writes that these companies should stop relying on the state and use the available chances to develop and promote their products independently.
Belarus launches a cruise ship in the Paliessie region. The first cruise route 'Pearls of Paliessie', with the motor ship Belaja Ruś, will begin 29 April 2017, writes Holas Radzimy. The tour is designed for eight days and will run via the Buh River, the Dniepar-Buh Canal and the Prypiać river, 550 kilometres in total. The ship will sail mostly at night.
During the day, tourists will be able to go ashore and explore the sights of the cities of Brest, Kobryn, Pinsk, Turaŭ, Mazyr, as well as some famous villages. Belaja Ruś is the first and only cruise ship to be built in Belarus. It will resemble a three-story hotel with 16 cabins, restaurants, shops and a pool. The price for the cruise will be all inclusive and can host nearly 40 passengers.
Social
Minsk breaks its housing sale record. In 2016 more than 15,000 apartments were sold in Minsk: 14% more than in 2015. This became an all-time record for the Belarusian capital. Due to the economic recession, housing prices fell in USD, while market supply remains high. Belarusians are most likely to buy apartments in buildings built in the 1970's to late 1990's, which dominate on the market. One third of buyers sought the cheapest apartments, such as one-bedroom flats for $30,000.
In contrast to Minsk, apartment sales in the regions have fallen for the third consecutive year. Not including Minsk, 31,426 flats were sold in Belarus in 2016; this is 13% less than in 2015 (36,149 flats). Compared to 2014, when over 38,000 apartments found new owners, the fall exceeded 17%. This trend will continue in the future, experts predict.
54 men enlist in alternative civilian service. The Law on Alternative Civilian Service came into effect in Belarus 1 June 2016. It allows those who cannot serve in the military due to their religious beliefs to work in civilian organisations instead. Military service is mandatory in Belarus for all men. Those enrolled will have to serve 36 months if they do not possess higher education or 24 months if they do, while those in the military serve 18 and 12 month respectively.
These citizens will receive a monthly salary of $200, which is raised after the 13th and 25th month of service. According to the Ministry of Labour and Social Welfare, alternative servicemen will be able to serve in 371 organisations around the country. Currently, 27 men already work in social and health care, housing, agriculture, and forestry organisations, while the rest will be employed by 7 February 2017.
Belarusians will make sausages and canned meat from beavers. In 2016-2017, hunting services will need to gather a stock of 1,750 animals for this purpose, informs Gomelskaya Pravda. According to the Head of the Hunting Department of the Ministry of Forestry Siarhiej Šastakoŭ, many manufacturers have already expressed their interest in this idea.
Beaver meat is rich in protein, selenium, vitamin C, and phosphorus. It also contains more iron than any other type of meat. There are currently over 50,000 beavers in Belarus, but the optimum number is 2.5 times fewer. They build dams on reclamation channels, flooding large parts of the forest and the yards of private farms.
The state press digest is based on review of state-controlled publications in Belarus. Freedom of the press in Belarus remains restricted and state media convey primarily the point of view of the Belarusian authorities. This review attempts to give the English-speaking audience a better understanding of how Belarusian state media shape public opinion in the country.
https://belarusdigest.com/story/migration-centres-relations-with-sudan-paliessie-cruises-beaver-sausages-belarus-state-press-digest/
Hipsters vs. football authorities: the start-up which shook Belarusian sport
A newcomer to the top Belarusian football league, FC Krumkachy (or Ravens), from Minsk became the most discussed phenomenon of Belarusian sport in the media in 2016.
The story of the club plays out like a Hollywood movie. A group of enthusiasts founded the club just five years ago, and after three years in minor leagues their dreams came true. Krumkachy earned the right to debut in the country's major professional league.
The way most football clubs in Belarus are run bears many similarities to state-owned enterprises. They are unprofitable, state subsidised, unable to attract spectators, and struggle to compete with European teams at international tournaments. In this context, Krumkachy's bright start symbolises the encouraging developments in Belarusian sport.
How Belarusian football works
Belarusian club football is very different than in Europe. Despite the economic downturn, the Belarusian football federation has been enlarging its top league, while many European top leagues are reducing the number of teams. In contrast to most leagues in Europe, the tournament in Belarus starts in spring and finishes in autumn. Moreover, match attendance has been on the decline for years, and is very much contingent on the results of specific clubs. This make Belarusian fans among the least 'patriotic' in Europe. Why so?
The structure of Belarusian football clubs differs little from professional football during Soviet times. Most often, founders of clubs represent local authorities. A state-owned company situated in the same region as the club often becomes its only sponsor. A plant which makes electrical tractor equipment owns FC BATE Barysau, SC Belaruskali, which produces potash fertilisers, maintains FC Shakhtsior Salihorsk, etc.
In most cases, managers of clubs are recruited from state industry or thanks to their connections with the authorities. Thus, it comes as no surprise that they rarely bring in much money, instead relying on subsidies to keep up the team. They refuse to work with spectators or the media and do nothing to bring in funds from outside.
Even the web-pages of many clubs are amateurish and rarely updated. Most stadiums are very uncomfortable. There are not enough food vendors and beer is not sold. BATE, the leading Belarusian football club, is perhaps the only exception to this rule.
However, the most striking feature of the largest Belarusian football league is its boringness: games are completely devoid of intrigue. The league's leader, BATE, has won the league championship for 11 years in a row now. The most telling measure of the flagging interest in the Belarus league is probably attendance statistics. There has been a steady decrease in attendance for years, hitting an all-time low in 2016. The average match attendance in the 2016 season was just 1480. For comparison, in 2007 average attendance reached 2512.
The economic crisis has only made matters worse. Already struggling Belarusian clubs became even poorer. The lack of money caused many Belarusian football players to continue their careers in less prestigious leagues in Kazakhstan, Latvia, or Lithuania.
The annual budget of BATE in 2016 amounted to $6m. Its closest rival, Dynama Minsk, has an annual budget of only $3m. In contrast, the budget of Zenit St-Petersburg in the 2015/2016 season was $185m; Shakhtar Donetk had a budget of $85m.
Why hipsters like Krumkachy
In 2016, going to Krumkachy matches in Minsk became trendy: only BATE and FC Viciebsk matches attracted more spectators this summer. Club management succeeded in drawing in young people who had not been interested in football before. Traditional ultras nick-named FC Krumkachy 'the hipster club' and started goading new fans with chants such as 'some things are fashionable, some things are forever'.
Many fans were won over by the remarkable history of the team. The co-founders of the club got to know each other in 2011 on the online forum of the popular sport newspaper Pressball. They decided to establish a football club, and four years later the club advanced to the top league of the Belarusian championship. The club succeeded despite very limited resources. The team's coach, Aleh Dulub, had been out of a job for about a year. However, he achieved remarkable results with half-amateur players which other clubs had rejected.
Despite having only a $500,000 budget, the smallest in the league, they managed to finish in eleventh place. To maintain public attention, they ran a very aggressive campaign in the media and unlike most Belarusian clubs, they were able to engage sponsors and partners including the largest enterprise in the Belarusian brewing industry, Krynitsa, and one of the country's most popular commercial internet portals, Kufar.by.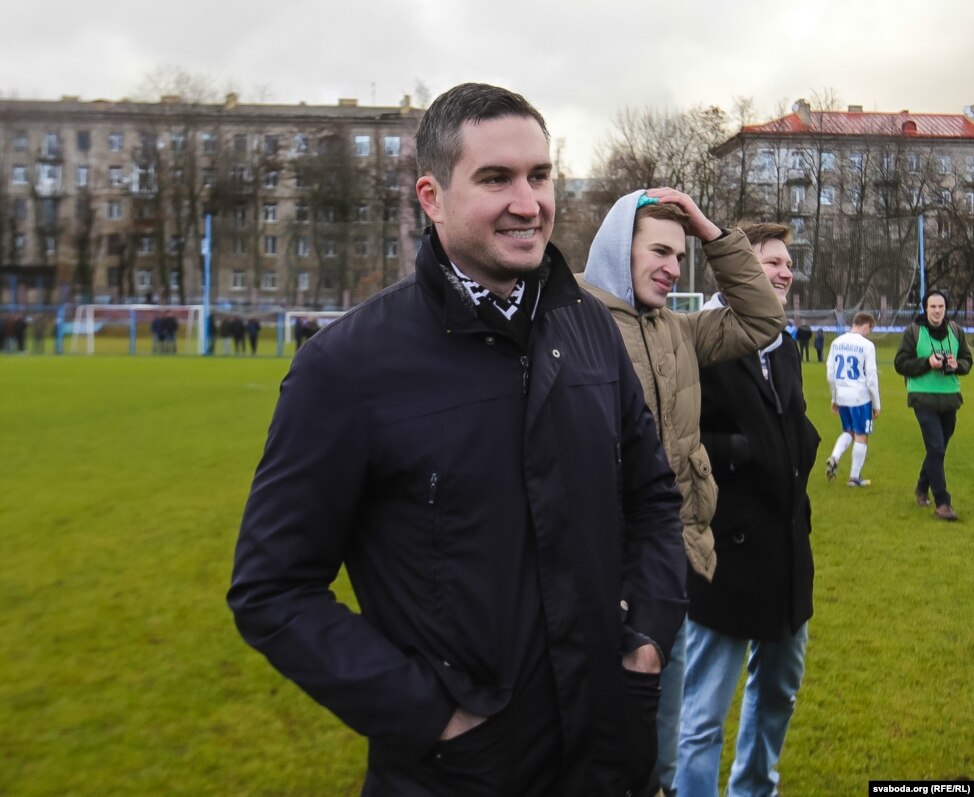 The manager
Its club owes much of its success to its General Director and shareholder, Dzianis Shunto. In the beginning of 2016, he owned 85% of shares. Born in 1982, he does not fit the typical profile for Belarusian football managers.
Shunto played for Krumkachy several years ago when the club was established; it has never been linked with state agencies or state business. Although he has given a large amount of interviews to the media, it remains unclear what he did before Krumkachy. Usually, he says he was in business and travelled widely.
Shunto is an outstanding manager and is not afraid to confront authorities to achieve results. Regarding his interaction with the Belarusian Football Federation in an interview from the end of 2015, he was very critical of football authorities:
They did not understand where we would get the money from. How we were planning to get through licencing. They clearly see other teams in the league, but they are anxious about us because they cannot calculate or control our team. They do not trust us. In our country it is not normal to trust people and understand their motives.
Against all odds, Shunto proved that with limited financial resources and with no support from the state it is possible to establish a successful sport club. Krumkachy managed to bring in fans to the dismal Belarusian league. They were able to convince IT specialists and hipsters from Minsk night clubs to come to the stands. In 2016, Krumkachy was much more discussed in the media than any other club.
However, it remains questionable whether such a startup can continue to be profitable. There are no profitable sport clubs in Belarus except BATE Barysau. For this reason, nobody knows how long Krumkachy can survive for. Partysan Minsk, another promising underdog, was forced to disband after fans failed to sponsor the team.
The club will not be able to keep going if Dzianis Shunto loses interest in the project. Nevertheless, Krumkachy has already entered the history of Belarussian football. Only the future will show if the team will become the Belarusian FC Leicester or if they will repeat the story of many promising football projects which have since been forgotten.
https://belarusdigest.com/?p=1